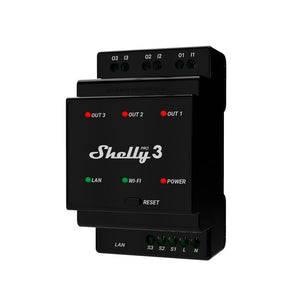 Shelly Pro 3
3 channels DIN rail relay switch with Wi-Fi, LAN and Bluetooth connection

Professional 3 channels relay with Wi-Fi, LAN, and Bluetooth connection, suitable for home and facility automation with remote control. DIN rail mountable inside a breaker box. Enhanced safety features and compatible with most used home automation platforms.
Shelly Pro 3

LAN, Wi-Fi, and Bluetooth connection
3 output, 16A each. Total device maximum of 48A
Dry contact
DIN rail mountable
3 phases control


Power
Power supply AC
110-240V, 50/60Hz
Maximum load
up to 16A per channel with up to 48A for the whole device
Channels
3 Channel
Special functions
Roller shutter mode
No
Device temperature protection
Yes
Overload protection
No
Power measurement
No
Features
HTTP/HTTPS webhooks
Yes
Custom scripts (mJs)
Yes
Operational temperature
-20 °C to 40 °C / -5 °F to 105 °F
Device power consumption
< 3 W
Intelligent On/Off
Yes
Local and remote control
Yes
Sunrise/Sunset
Yes
Weekly Schedule
Yes
UL Listed option
No
Connectivity
Wireless
Yes
Max RF output power
13.35 dBm
Wi-Fi Protocol
802.11 b/g/n
Wi-Fi Radio frequency
2412 – 2472 МHz; (Max. 2495 MHz)
Wi-Fi Range
Up to 30 m / 100 ft indoors and 50 m / 160 ft outdoors (Depends on local conditions)
Bluetooth
Yes
Ethernet
Yes
Dimensions
Size
96x53x59 mm / 3.78×2.01×2.32 inch
The deviation from the device dimensions is up to 0.5 mm. The deviation from the package dimensions is up to 2 mm.