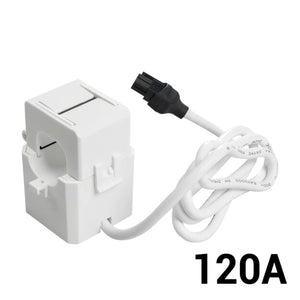 Current Transformer for Shelly 3EM / 120A
Current Transformer for the Shelly 3EM.
As an additional terminal for monitoring the neutral conductor or as a replacement.


Specifications:
Accuracy 1%
Core Ferrite core
Electrical strength 3000VAC 1mA60s
Inner diameter 17mm
Load resistance 20Ω
Primary rated current 120A
Secondary rated current 40mA
Saturation current ≥120A
Size 31mm x 45mm x 30mm
Cable length approx. 60cm


does not fit Shelly PRO 3EM!

Warranty and Support:
Warranty inquiries and troubleshooting via the Shelly-Support-Ticketsystem