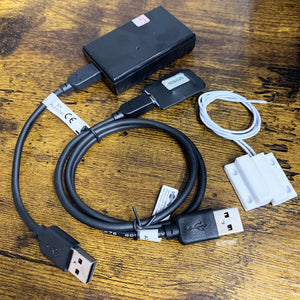 Gate-Controller Lite Bundle - fully automatic garage door control
Product details
If you already have your garage door opener equipped with a Shelly1 or Shelly Plus1, you can now fully automate it with the Gate Controller Lite,

Our Gate-Gantroller Lite Bundle consists of a programmable receiver module (especially for use with Shellys) and the Wifi marker module for the car.


How it works

When you approach the garage with your vehicle, an opening command is automatically sent to the Shelly of your gate opener.
If you move out of the Wifi range, the door closes automatically.
The same happens when you switch the ignition on or off. The gate opens or closes automatically (with a delay when switched off).
The Gate-Controller Lite also independently recognises the respective state of the gate through the magnetic contact supplied, which is connected to the Shelly.
Operation is possible with a Shelly 1 or Shelly Plus 1 (with or without addon).

In other words, a really smart, fully automatic solution that not only replaces the remote control with a mobile phone.

Note
Support for this product is provided exclusively by the manufacturer:
Pilot IoT Systems
Leobner Str. 62.
8600 Bruck an der Mur
Austria
pilot.iot.systems@gmail.com
downloads: bit.ly/3or4lgq