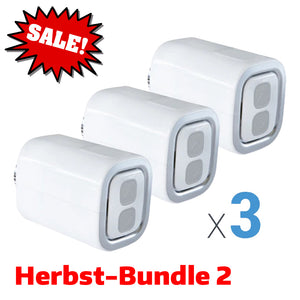 Shelly TRV 3-Pack -special price-
The promotional bundle consists of 3 x Shelly TRV radiator thermostats at an absolute knockdown price!
Wi-Fi operated automatic radiator valve.
Highly efficient heating management to save energy costs
Rechargeable 6500 mAh battery, estimated battery life 2 years
Wide range of temperature control, from 5°C to 30°C.
You can replace your old thermostatic valve with Shelly TRV in less than 2 minutes and control it from anywhere. Set Shelly TRV to activate custom scenes based on time, light, or various actions, and ensure you and your family always enjoy enhanced heating control!
A Shelly H&T or a Shelly1 (PM) with addon and connected sensors can be used directly as a room thermostat for the Shelly TRV!
Power supply:
Battery life Up to 2 years (Battery life based on 5 months heating period)
Battery type 3.6V 6500mAh NCR18650BD Panasonic rechargeable battery
Power supply AC No
Charger requirements USB Type C (>2A)
Power supply DC USB type C (>2A), charger not include
Power consumption <500mA
Features:
Working temperature: 0°C up to 30°C
Temperature control range 5°C - 30°
Sunrise/sunset YES
Weekly schedule YES
Connectivity:
Wireless Yes
Wi-Fi protocol 802.11 b/g/n
Wi-Fi radio frequency 2412 - 2484 MHz
Wi-Fi radio signal power 1mW
Wi-Fi range up to 30m indoors (depending on building materials).

Compatibility:
Alexa, Google Home, home automation systems such as Homeassitant, IOBroker, etc.

Dimensions:
Size 94mm x 62mm x 53mm
The deviation from the device dimensions is up to 0.5mm. The deviation from the housing dimensions is up to 2mm.