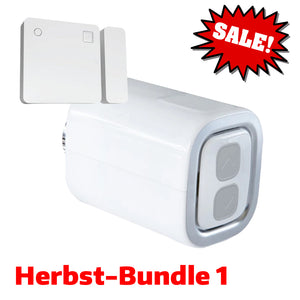 Shelly TRV + BLU Door/Window -special price-
This special bundle consists of a Shelly TRV and a Blu-Door/Window Sensor in white for a special price!
Bluetooth controlled door/window sensor.
Very small and compact Shelly door and window sensor with long battery life.
Detects and reports door/window opening and closing, tilt angle and brightness. The device requires a 3V CR2032 battery, which is included.
And
Shelly TRV Wi-Fi powered automatic radiator valve
High efficiency heating management to save energy costs.
Rechargeable 6500 mAh battery, estimated battery life 2 years.
Wide range of temperature control, from 5°C to 30°C.
You can replace your old thermostatic valve with Shelly TRV in less than 2 minutes and control it from anywhere. Set Shelly TRV to activate custom scenes based on time, light, or various actions, and ensure you and your family always enjoy enhanced heating control!

Important notes:
Use of the BLU-Door/Window requires the presence of at least one PLUS or PRO Series Shelly on your network to serve as a gateway.
Alternatively, a Shelly Blu Gateway.
Controlling other Shelly devices with the BLU button is done via scenes, which can be created very easily in the Shelly APP.
Direct actions (without scenes) are only possible via the scripting function!

Power supply:
Battery life up to 60 months
Battery type 1xCR2032 <- ORDER HERE!
Power supply AC NO
Power supply DC NO

Special Features:
Illumination measurement Yes
Motion detection No
Open/Close Yes
Tilt angle detection Yes
Scripting function Yes

Features:
Operating temperature -20°C to + 40 °C
Local and remote control YES

Connectivity:
Wireless Yes
Bluetooth
Frequency band 2400 -2483.5 MHz
Encryption AES
Bluetooth range up to 10 m indoors and up to 30 m outdoors (depending on building materials)

Compatibility:
Alexa, Google Home, home automation systems such as Homeassitant, IOBroker, etc.

Dimensions:
Size 35mm x 35mm x 7mm
The deviation from the device dimensions is up to 0.5mm. The deviation from the housing dimensions is up to 2mm.